---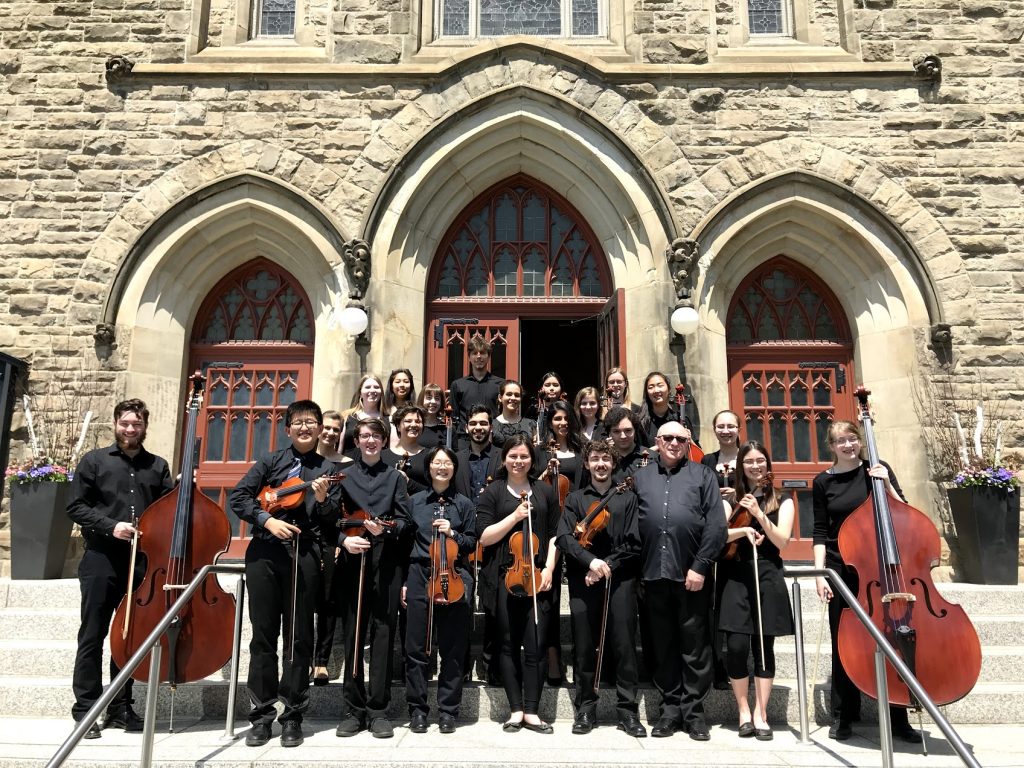 2018 Thomastik-infeld Canadian String Orchestra/L'orchestre à cordes canadien Thomastik-Infeld (TICSO-OCCTI)
sponsored by/commandité par:
Ottawa, May 11 to 16, 2019/Ottawa, du 11 au 16 mai 2019
Please keep in mind that Honour Groups start before the main festival. TICSO will start Saturday evening, May 11, and end Thursday evening, May 16.
TICSO-OCCTI Final Concert 2019
Thursday, May 16 at 3:00 p.m. at the First Baptist Church, Ottawa
The Thomastik-Infeld Canadian String Orchestra (TICSO) invites advanced string players aged 14 to 24 to audition.  Participating in the orchestra under Stephen Sitarski will be an important and memorable event in your life.  Please contact us if you have any questions.See details via the Audition Procedure link on the left.
SCHEDULE
Please check the link at the top right of the page.
INFORMATION ABOUT COSTS
SPONSORSHIP/REGISTRATION FEE
There is NO audition or registration or participation fee to participate with any of the honour ensembles. Thomastik-Infeld and MusicFest Canada underwrite the operating costs for the TICSO conductor, music, rehearsal space, clinicians, guest soloists, musical equipment, technical staff and concert venue. The objective is to provide a special educational opportunity for Canada's most outstanding young string musicians.
PARTICIPANT ACCOMMODATIONS:
Accommodations for members, directors, and staff have been arranged at the University of Ottawa Residences. Members of the honour ensembles are encouraged to stay at the University of Ottawa, but ARE NOT required to do so. Some members will be traveling with their own school group(s) and others will be local students who already have accommodations in the area. For those wishing to stay at the University of Ottawa, the cost is $395.00 for a maximum of six nights. Accommodation will be two people per room. All meals will be the responsibility of the individual.
TRANSPORTATION to and from Ottawa is the responsibility of each individual musician.
DOUBLE BASS INFORMATION
If you play the bass, and are interested in being a part of TICSO-OOCTI, but aren't able to bring your bass with you, we will do our best to provide one for you. Please submit your application, and let us know that you will need one. Bring your own bow.
CONTACT US:
DR. TONY LEONG
[email protected]
For travel and accommodation:
Michelle Hern, Ellison Travel and Tours
1-800-265-7022
[email protected]
***********************************************************************
Auditions |Facebook | Twitter |
NB: Il est important de réaliser que tous les ensembles d'honneur débutent avant le commencement du festival.  L'OCCTI débutera le samedi soir, 11 mai et se terminera le jeudi soir, 16 mai.
TICSO-OCCTI Récital final 2019
Jeudi, 16 mai à 3:00 p.m. au  First Baptist Church, Ottawa.
HORAIRE
L'orchestre à cordes canadien Thomastik-Infeld (OCCTI) invite les joueurs de cordes avancés âgés de 14 à 24 ans à auditionner. Dirigé par  Stephen Sitarski vous vivrez a coup sur une expérience musicale mémorable. N'hésitez pas à nous contacter pour toutes questions au sujet de ce programme.Veillez vérifier le lien au haut de la page, coté droit
FRAIS D'INSCRIPTION
Il n'y a aucun frais d'inscription pour participer dans tous les ensembles d'honneur du festival. MusicFest Canada et Thomastik-Infeld assument les couts d'opération de tous les groupes, incluant l'embauche du directeur de l'OCCTI, partitions, espace de travail, cliniciens, artistes invités, équipement, embauche de techniciens et salle de concert. Le but de ce programme est d'offrir, chaque année, un haut niveau de développement pour nos jeunes musiciens de talents.
HEBERGEMENT DES PARTICIPANTS:
L'hébergement pour tous les membres, employés et la direction de MusicFest sera localisé à Ottawa University residences. Tous les membres d'ensembles d'honneur sont également encouragés à séjourner à Ottawa University sans toutefois en avoir l'obligation. Certains membres voyageront avec leur propre groupe d'école tandis que d'autres, de provenance locale, séjourneront à leur propre lieu de résidence.  Pour tous ceux désirant une chambre à Ottawa University, le coût est de 395 $ pour un maximum de six nuits. Tous les repas sont la responsabilité de chacun.
LE TRANSPORT vers et en provenance des Ottawa est la responsabilité de chaque musicien.
POUR LES CONTREBASSISTES
SI vous êtes un contrebassiste interessé a devenir membre de l'OCCTI, mais de disposez pas de moyen pour transporter votre instrument, nous feront de notre mieux pour vous en fournir une sur les lieux.  Au moment de soumettre votre candidature, veuillez souligner votre demande d'emprunter une contrebasse. Vous devez toutefois apporter votre propre archet.
CONTACTEZ NOUS:
DR. TONY LEONG
[email protected]
For travel and accommodation:
Michelle Hern, Ellison Travel and Tours
1-800-265-7022
[email protected]