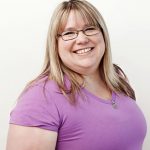 Production Director
​Kim Vrieling hails from Ottawa and holds a Bachelor of Music from Mount Allison University in Sackville, New Brunswick.
Kim has been an active volunteer with MusicFest Canada for 18 years, previously serving as Concert Band Stage Manager, Volunteer Coordinator and Operations Manager.
Kim sits on the Executive Board of the Capital Region MusicFest in Ottawa as Volunteer Coordinator, Onsite Registrar and Treasurer. She has been volunteering with the festival since 1998 and enjoys watching the progression from Regional performance to Nationals.
Kim also volunteers her time at Studio A Dance acting as their Technical Director/Stage Manager for their show in June, and free-lancing as their Santa Claus parade float DJ.
In real life, Kim works for Calian Ltd. as a Security Program Officer; likes long walks on the beach; loves to binge-watch TV shows, and is a proud Auntie "Timmy" to 2 amazing, adorable nieces and 1 awesome, adorable nephew.