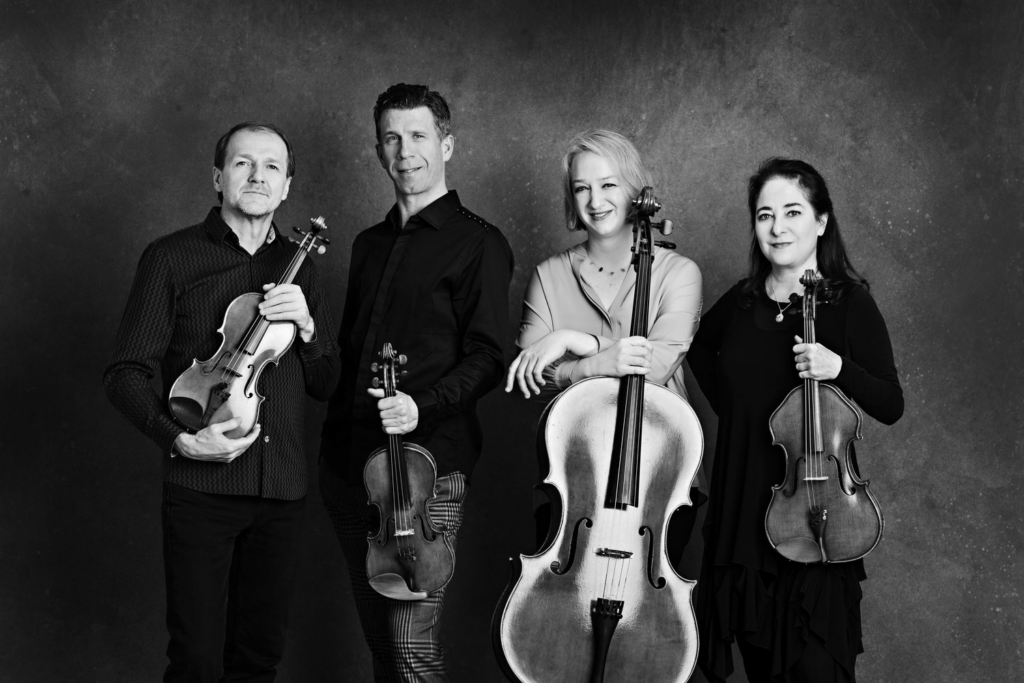 PENDERECKI STRING QUARTET
Jeremy Bell, violin
Jerzy Kapłanek , violin
Christine Vlajk, viola
Katie Schlaikjer, cello
Based in Waterloo, Ontario as the Quartet-in-Residence at Wilfrid Laurier University since 1991, the Penderecki String Quartet has become one of the most celebrated chamber ensembles of their generation.
The PSQ's international performing schedule has included appearances in New York (Weill Recital Hall at Carnegie Hall), Amsterdam (Concertgebouw), Hong Kong (Academy for the Arts), Los Angeles (REDCAT Hall at Disney Center), St. Petersburg (Sheremetev Palace), the Adam Festival in New Zealand, and throughout Europe in Rome, Madrid, Paris, Belgrade, Prague, Krakow, Vilnius, and Zagreb. The PSQ has also toured extensively in Mexico, Australia, Venezuela, Brazil, Colombia, and from coast to coast in Canada.
Dedicated educators, the PSQ have been recent guests at Bloomington Indiana University's String Academy, the Beijing Conservatory, University of Southern California (Los Angeles), University of British Columbia in Vancouver, and with their partner universities in Osnabrück, Germany and Lyon, France.
To this day the PSQ is a devoted champion of the music of our time, having premiered over 100 new works from composers in Canada and abroad. Their disc of Marjan Mozetich's "Lament in the Trampled Garden" won the 2010 JUNO Award for Best Composition. In 2022, the PSQ was featured in Howard Shore's soundtrack to David Cronenberg's film Crimes of the Future.
The Penderecki Quartet has performed with diverse artists such as Atar Arad, Jeremy Menuhin, Stewart Goodyear, James Campbell and have recently appeared with jazz saxophonist Jane Bunnett, jazz pianists Egberto Gismonti, Don Thomson and David Braid, pipa virtuoso Ching Wong, Dancetheatre David Earle, Pentaedre Wind Quintet, actor Colin Fox, and New York turntable artist DJ Spooky.
The Penderecki Quartet continue to be active members of the Faculty of Music at Laurier University where they have built the string program to be one of the top programs in Canada, attracting an international body of students. Their annual Quartetfest at Laurier is an intensive study seminar and concert series that has featured such ensembles as the Tokyo, Fine Arts, Lafayette, Miro, Ying, and Ariana String Quartets.