MusicFest is proud to welcome you on the new MusicFest Canada's online registration system.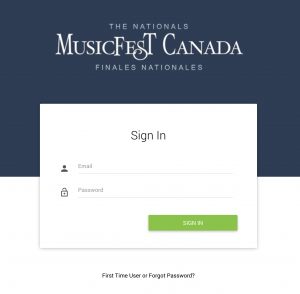 As you know, we have recently moved to a new system that will offer an improved experience to Ensemble Directors and other users. The new Website has added multiple levels of security to protect everyone's data.
The new security requires that all users create a NEW username. If you have a previous username (a 5 digit #), it is no longer valid. Your new USERNAME is your email address.
 In addition, you will be required to create a new PASSWORD.  If you have a previous password, it is no longer valid.
How to Register Ensemble(s) on the new system:
The new system is accessible from any device at the following URL:
Step 1
Go to My.MusicFest.ca and click on "First Time user or forgot password" below the login box. A "First Time user" is anyone who has not created a new Username and/or new Password.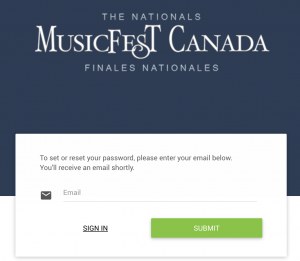 Step 2
The system is now asking for your email.
This email is your new USERNAME in the system, you should have received it in an invitation email sent to you recently. If you haven't please contact jim.howard@musicfest.ca
Once you've entered your email address, click on SUBMIT.
Step 3
You should now receive a new email within minutes with a link that will allow you to access the console and reset your password to anything you'd like.
Step 4
You're now connected and can register your ensemble(s). Click on Ensemble Registration in the left panel and complete all 5 links (Register, Travel and Accommodations, Request Performance Times, Registration & Adjudicated Performance Record, Financial Summary) to finalize your registration.
Please print the Financial Summary and submit your initial deposit as indicated.
If you have any question please contact jim.howard@musicfest.ca
*******************************************************************
Bienvenue sur notre nouvelle page d'inscription en ligne!
Comme vous avez pu constaté, nous avons récemment mis à jour le site MusicFest, dans le but de faciliter la marche à suivre pour l'inscription d'ensemble musicaux à MusicFest Canada. Ce nouveau site web dispose de multiples niveaux de sécurité pour une protection accrue de tous vos renseignements personnels.
Ce nouveau system requiert de tout appliquant de créer un nouveau nom d'utilisateur. Votre ancien numéro de 5 chiffres n'est plus valide. Votre nouveau nom d'utilisateur est votre adresse de courriel.
De plus, vous aurez besoin d'un nouveau mot de passe. Votre ancien mot de passe n'est plus valide.
Comment inscrire un ou des ensemble(s) sur le nouveau site:
Le nouveau site est accessible de toutes plateformes branchées sur Internet à la nouvelle adresse :
Étape 1
Sur le site My.MusicFest.ca,  cliquer sur on "Nouvel utilisateur ou mot de passe oublié" en-dessous de la boite « Se connecter ». Un nouvel utilisateur sera toute personne n'ayant pas déjà choisi un nouveau nom d'utilisateur et un nouveau mot de passe.
Étape 2
Le site vous demandera maintenant votre adresse de courriel Cette adresse sera votre nouveau nom d'utilisateur que vous êtes sensés avoir reçu via courriel récemment. Si vous ne l'avez pas reçue, svp entrez en contact avec Jim Howard à jim.howard@musicfest.ca
Après avoir entré votre adresse de courriel, cliquer sur « SUBMIT»
Étape 3
Vous devriez avoir aussitôt reçu une confirmation par courriel avec un lien vous permettant d'accéder au site et de personnaliser votre mot de passe.
Étape 4
Vous êtes maintenant connecter et pouvez maintenant inscrire votre (vos) ensemble(s). Cliquer sur « inscription d'ensemble » sur le cote gauche de la page et complétez les lignes de renseignements (S'inscrire, transport et hébergement, demande de temps de récital, inscription et récital avec juges et sommaire financier) pour compléter l'inscription.
Imprimer le sommaire financier et soumettre votre premier dépôt tel qu'indiqué. 
Pour de plus amples renseignements, svp contacter jim.howard@musicfest.ca
* Click here to view Performance Schedule Calenda