Accommodation and Travel

Ellison Travel and Tours has been contracted as the official Housing and Transportation Bureau for MusicFest to ensure adequate accommodation for the thousands of students, adjudicators, suppliers and support staff attending the festival. By utilizing the services of Ellison Travel and Tours, MusicFest Canada is able to supply you, the participants, with a convenient, valuable and simple procedure for all of your booking, accommodation and travel needs.
Due to the large number of groups that attend MusicFest Canada, it is necessary for the festival to contract accommodation space early. This ensures that rooms are available for the festival at competitive rates and close to the MusicFest site.
Groups attending MusicFest Canada who require accommodation are required to use properties contracted by MusicFest. As our exclusive agent for these properties, Ellison Travel and Tours can find the best fit solution to your accommodation requirements.
Note: If you are a local ensemble and will not require overnight accommodations, please complete the Travel Waiver and fax it to 702-269-9026 or e-mail it to cathye@ellisontravel.com
NIAGARA FALLS CONVENTION CENTRE PARKING MAP: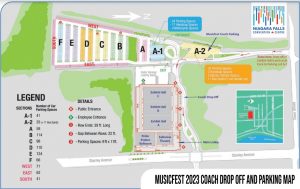 2023 Venue Locations
NIAGARA FALLS CONVENTION CENTRE:
Stage A: Instrumental Jazz adjudicated performances
Stage B: Concert Band/Chamber Ensembles/Orchestra adjudicated performances
Registration Office
Executive Office
Production Office
Honour Ensemble Rehearsals:  Denis Wick Canadian Wind Orchestra, Conn-Selmer Centerstage Jazz Band, Thomastik-Infeld Canadian String Orchestra, Woodshed Canadian Percussion Ensemble, National Youth Jazz Combo
Feature Concerts
Photo Stage
Ellison Travel & Tours Booth
To download detailed floor plans of the NFCC, click HERE
REDEEMER BIBLE CHURCH:
Stage C: Choral/Contemporary Music adjudicated performances
Feature Concerts
Photo Stage
ST. MARY'S UKRANIAN CATHOLIC CHURCH:
Honour Ensemble Rehearsals:  Ellison Canadian Honour Choir
All adjudicated ensemble performances (Stages A, B & C) are open to the general public, free of charge. Spectators are encouraged to come and hear the finest young musicians in Canada. Feature concerts are for participants only. There are a limited number of paid passes available to the general public.