SCOTT LEITHEAD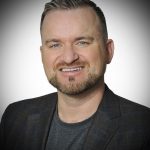 Scott Leithead is the founder and Artistic Director of Edmonton's Kokopelli Choir Association and TIME Jazz Association. Scott is a very sought after clinician and director, with notable appearances including conducting the Alberta Youth Choir for the Alberta Choral Federation's 40th Anniversary, conducting the 2013, 2015, 2016 and 2017 Ellison Canadian National Honour Choir, and adjudicating at both the ACCC National Competition for Amateur Canadian Choirs and the Kathaumixw International Choir Festival.
Scott has a passion for music from southern Africa and he has been invited to work with choirs in South Africa and Namibia on numerous occasions. In 2008, Scott was on sabbatical in Namibia where he worked with the Mascato Youth Choir and many other choirs in southern Africa. Scott is also the Vice Chairman of Choral/Vocal Division for MusicFest Canada.
Scott Leithead is sponsored by Ellison Travel & Tours.