DR. NOAM LEMISH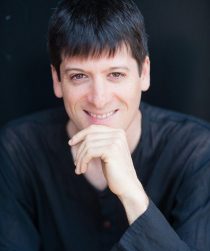 Dr. Noam Lemish holds a Doctor of Musical Arts (DMA) in Jazz Performance and a Masters degree in Composition from the University of Toronto. He joined York University as Assistant Professor of Jazz Instruction and Pedagogy in 2020.  He has appeared in numerous performances and conducted workshops across Canada, the US, Europe, Israel, and in Bhutan and has released multiple albums, including most recently Pardes (2018) and Sonic Truffles (2018). Maybe Noam's hyphenated identity as an Israeli-American-Canadian has helped inspire his multiplicity; his teaching interests cover a wide variety of areas within jazz studies, composition, Jewish music, polyidiomatic improvisation and the practice of Deep Listening.
His compositions include jazz works for small and large ensembles, chamber, choral, piano, and "The People's King": a commissioned transcultural suite in celebration the King of Bhutan's 30th birthday composed while teaching music in the Himalayan Kingdom of Bhutan in 2010. As co-director of the Israeli-Iranian Musical Initiative (I=I), Noam brought Israeli and Iranian musicians and audiences together, in dialogue and celebration, challenging the formal political hostilities between Iran and Israel through critically acclaimed and sold-out concerts at major venues and festivals.
Dr. Lemish is sponsored by York University.