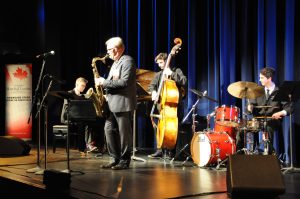 2017 National Youth Jazz Combo/Le groupe national jeunesse Jazz
sponsored by/commandité par:
Niagara Falls, May 14 to 19, 2017/Chutes du Niagara, du 14 au 19 de mai, 2017
Please keep in mind that Honour Groups start before the main festival. NYJC will start Sunday evening, May 14, and end Friday evening, May 19.
INVITATION TO AUDITION
MusicFest Canada, "The Nationals" invites you to audition for the National Youth Jazz Combo, an honour group for high school jazz players.  In the great tradition of small group jazz, the National Youth Jazz Combo provides 4 – 7 outstanding high school aged jazz musicians with the opportunity to move their playing to a new level through rehearsal, performance and study with some of the finest professional jazz artists in the world. The NYJC is a one-of-a-kind training program only open to Canadian youth. The Combo will perform at the Annual Awards Presentation followed by an afternoon concert on Friday, May 19, 2017.  Participating in the band under Kirk MacDonald will be an important and memorable event in your life.  Please contact us if you have any questions.
2017 TRAINING PROGRAM
The 2017 NYJC schedule will see the NYJC start up in Niagara Falls for the week of MusicFest Canada from May 14 – 20, and then come back together again in Toronto for three full weeks from June 26 through to July 16th.  During the three week summer schedule, the group will participate in the TD Toronto Jazz Festival and the 2017 Summer Jazz Workshop.  The summer program continues as a full scholarship opportunity with travel, accommodation and registration costs fully covered by Youth Jazz Canada for the duration of the three weeks. Participants are responsible for food and personal expenses.
BEYOND MUSICFEST
Youth Jazz Canada is pleased to announce that the 2017 NYJC will come together again during the summer to rehearse, perform and record as part of the TD Toronto Jazz Festival and the Summer Jazz Workshop for Youth.  In both cases members will be on full scholarship covering travel, accommodation and registration fees where applicable.
TD TORONTO JAZZ FESTIVAL, JUNE 26 – JULY 2
The NYJC will be participating in the TD Toronto Jazz Festival Youth Jazz Showcase, participating in workshops and performances with the Berklee Global Jazz Institute.  The group will also present a feature performance at the TD Toronto Jazz Festival.  Travel and accommodation provided, participants are responsible for their own food and personal expenses.
SUMMER JAZZ WORKSHOP FOR YOUTH, JULY 3 – 16
The NYJC will also be participating in the Youth Jazz Canada Summer Workshop, receiving full tuition scholarships and accommodation for out of town participants.
http://youthjazz.ca/summer-workshop/
SPONSORSHIP/REGISTRATION FEE
There is NO audition/registration/participation fee to participate with any of the honour ensembles. Humber College and MusicFest Canada underwrite the operating costs for the NYJC director, music, rehearsal space, clinicians, guest soloists, musical equipment, technical staff and concert venue. The objective is to provide a special educational opportunity for Canada's most outstanding young jazz musicians.
PARTICIPANT ACCOMMODATIONS:
Accommodations for members, directors, and staff have been arranged at the Hilton Fallsview Niagara Falls. Members of the honour ensembles are encouraged to stay at the Hilton Fallsview Niagara Falls, but ARE NOT required to do so. Some members will be traveling with their own school group(s) and others will be local students who already have accommodations in the area. For those wishing to stay at the Hilton Fallsview Niagara Falls, the cost is $495.00 for a maximum of six nights. Accommodation will be two people per room. All meals will be the responsibility of the individual.
TRANSPORTATION to and from Niagara Falls is the responsibility of each individual musician.
AIRPORT TRANSPORTATION:
For those flying into Toronto, there will be a limited schedule of complimentary bus shuttle service to Niagara Falls from the Pearson airport on Saturday, May 13th (TICSO, ECHC) and Sunday, May 14th (DWCWO, NYJC, CSCJB, WCPE), and back to Toronto the following Friday, May 19th (TICSO, ECHC) and Saturday, May 20th (DWCWO, NYJC, CSCJB, WCPE).  Instructions about scheduling flights to align with this shuttle schedule will be provided to successful applicants.
 *************************************************
Il est important de réaliser que tous les ensembles d'honneur débutent avant le commencement du festival.  Le GNJJ débutera le dimanche soir du 14 mai et se terminera le vendredi 19 mai.
INVITATION A AUDITIONNER
Vous êtes cordialement invités à auditionner pour devenir membre du groupe national jeunesses Jazz aux Nationales de MusicFest Canada.  Ce groupe d'honneur se compose de 5 à 7 membres talentueux,  provenant d'écoles secondaires de partout au Canada, et désireux de parfaire l'art de l'improvisation et de l'interprétation musicale de la musique Jazz, en compagnie d'artistes de renommée mondiale.
Cet ensemble à formule unique, forgée dans la plus pure tradition du développent du Jazz, se produira lors du gala de mérites MusicFest, suivie d'un récital en après-midi, le vendredi, 19 mai, 2017. Sous la direction du légendaire saxophoniste Kirk McDonald, le GNJJ fournira à ses membres une expérience musicale inoubliable. N'hésitez pas à nous contacter pour de plus amples renseignements.
LE PROGRAMME DE FORMATION 2017
L'horaire du GNJJ pour l'année 2017 débutera à Niagara Falls durant la semaine de MusicFest Canada, du 14 au 20 mai et se poursuivra à Toronto durant trois semaines du 26 juin au 16 juillet. Pendant ces trois semaines d'été, l'ensemble participera au festival de jazz de Toronto et aux ateliers de Jazz d'été 2017. Ce programme inclut une bourse d'étude de Jeunesses Jazz Canada, couvrant toutes les dépenses de voyage, hébergement et frais d'inscription pour la durée de trois semaines. Les frais de dépenses personnelles et nourriture ne sont pas inclus.
APRÈS MUSICFEST
Jeunesse Canada Jazz annonce avec joie, que le GNCC 2017 se réunira de nouveau pendant l'été pour répéter, enregistrer et se produire en spectacle dans le cadre du festival de jazz de Toronto et les ateliers jeunesse jazz d'été. Chaque membre pourra bénéficier de bourse d'étude couvrant les dépense de voyage, hébergement et frais d'inscription.
FESTIVAL DE JAZZ  TD DE TORONTO
Le GNJJ fera partie du chapître jeunesse jazz du festival de jazz TD de Toronto en tant que participant aux atelier de formation ainsi qu'aux récitals avec le Berklee Global Jazz Institute. L'ensemble se produira également en spectacle au festival. Les frais de voyages et d'hébergement sont inclus. Les frais de dépenses personnelles et nourriture ne sont pas inclus.
LES ATELIERS JEUNESSE JAZZ D'ÉTÉ 
Le GNJJ participera également aux ateliers jeunesse Jazz d'été et bénéficieront d'une bourse complète d'étude, couvrant les frais de cours et d'hébergement pour tout candidat résidant à l'extérieur de Toronto.
http://youthjazz.ca/summer-workshop/
FRAIS D'INSCRIPTION
Il n'y a aucun frais d'inscription pour participer dans tous les ensembles d'honneur du festival. MusicFest Canada et Humber Collège assument les couts d'opération de tous les groupes, incluant l'embauche du directeur du GNJJ, partitions, espace de travail, cliniciens, artistes invités, équipement, embauche de techniciens et salle de concert. Le but de ce programme est d'offrir, chaque année, un haut niveau de développement pour nos jeunes musiciens de talents.
HEBERGEMENT DES PARTICIPANTS:
L'hébergement pour tous les membres, employés et la direction de MusicFest sera localisé à l'hotel Hilton Fallsview Niagara Falls. Tous les membres d'ensembles d'honneur sont également encouragés à séjourner à l'hotel Hilton Fallsview sans toutefois en avoir l'obligation. Certains membres voyageront avec leur propre groupe d'école tandis que d'autres, de provenance locale, séjourneront à leur propre lieu de résidence.  Pour tous ceux désirant une chambre à l'hotel Hilton Fallsview Niagara Falls, le coût est de 495 $ pour un maximum de six nuits. Tous les repas sont la responsabilité de chacun.
LE TRANSPORT vers et en provenance des chutes du Niagara est la responsabilité de chaque musicien.
TRANSPORT AERIEN:
Pour ceux qui voyageront par Toronto, il y aura un service de navette gratuite (quantité limitée) entre l'aéroport Pearson et Niagara Falls le samedi, 13 mai (OCCTI et CCHE) et dimanche 14 mai (OVCDW, GNJJ, EJASCS ET ECPW) et également de retour à l'aéroport Pearson le vendredi suivant, 19 mai (OCCTI et CCHE) et samedi 20 mai (OVCDW, GNJJ, EJASCS ET ECPW). Des instructions quand à la synchronisation entre les horaires de vols et de navette seront disponibles pour chaque applicant dûment confirmé.