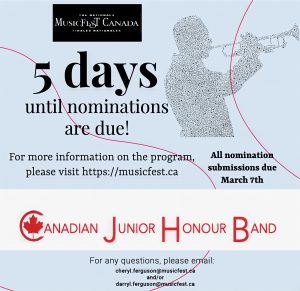 MusicFest Canada, "The Nationals" invites you to seek nomination for the Canadian Junior Honour Band, an honour group for students in grades 6-9.
The 2022 "virtual' CJHC will partner with volunteer music educators across the country in the virtual preparation and presentation of concert band works, under the direction of Cheryl & Darryl Ferguson. All CJHC musicians will receive a private lesson from an esteemed instrumental instructor.  This experience culminates with the international release of a professionally mastered performance, compiled using student recordings, under the auspices of the Coalition for Music Education on Music Monday May 2, 2022.
February 15-March 7, 2022                        Nominations are accepted
March 15, 2022                                           CJHB Roster is announced / participants register with MusicFest / music is distributed
Saturday March 26 3-4 pm EDT                 CJHB Meeting #1
Saturday April 2      3-4 pm EDT                 CJHB Meeting #2
Saturday April 9      3-4 pm EDT                 CJHB Meeting #3
Friday April 15, 2022                                   Student recordings are submitted before midnight
Monday May 2, 2022                                  Meeting #4  CJHB meets to watch the Coalition Music Monday broadcast together
Of special interest this year is the MusicFest Institute.  MusicFest Canada presents a series of workshops and masterclasses for all MusicFest Honour Ensemble members by world-class musicians in April and May 2022.  Membership in any of the MusicFest Honour Ensembles includes access to these optional learning and listening experiences, which will feature esteemed orchestra, wind band, choral and jazz musicians from across North America.
Nominations close on March 7, 2022.  The fee for successful applicants is $25.
If you have questions about this program, please email cheryl.ferguson@musicfest.ca and/or darryl.ferguson@musicfest.ca