MusicFest's premier $4,000 award
Yamaha Canada Music Limited has led the way in support of music and education in the Canadian school system for the past 47 years. Yamaha's sponsorship of MusicFest Canada includes clinicians, concert artists and the fabulous equipment that our participants perform on and our audiences listen to throughout the festival.
Each year Yamaha Canada presents the Kando Award which consists of $4,000.00 in musical instruments and is the premier award given at MusicFest Canada. It is reserved for that special individual, who, in the opinion of the adjudicators, has demonstrated outstanding musicianship, past musical achievements and solo performances. The award is presented following the festival and must be used before December 31 by the individual meeting the criteria as set out by the Board of Directors.
For more information about Yamaha Canada Music, visit www.yamaha.ca.
2019 AWARD RECIPIENT
James Griffith (Lloydminster, AB)
2018 AWARD RECIPIENT
Jacob Chung (Toronto, ON)
2017 AWARD RECIPIENT
David Hodgson (NORTH VANCOUVER, BC)
2016 AWARD RECIPIENT
Ethan Balakrishnan (Ottawa, ON)
2015 AWARD RECIPIENT
Noah Franche-Nolan (VANCOUVER, BC)
2014 AWARD RECIPIENT
2013 AWARD RECIPIENT
Samuel Cousineau (OTTAWA, ON)
2011 AWARD RECIPIENT
2010 AWARD RECIPIENT
Sam Dickinson (TORONTO, ON)
2009 AWARD RECIPIENT
Brian Rapanos (NORTH VANCOUVER, BC)
2008 AWARD RECIPIENT
Beverly Wang
Earl Haig/Claude Watson Secondary School (Toronto, ON)
2007 AWARD RECIPIENT
Eli Bennett
(Vancouver, BC)
2006 AWARD RECIPIENT
Nathan Cepelinski
(Nepean, ON)
2005 AWARD RECIPIENT
Simon Millerd
Gulf Islands Secondary School (Saltspring Island, BC)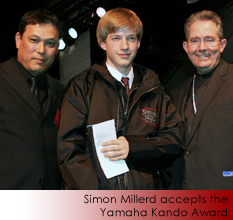 2004 AWARD RECIPIENT
Lauren Falls
Alberni Secondary School (Port Alberni, BC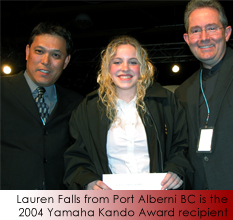 2003 AWARD RECIPIENT
Larnell Lewis
Mayfield Secondary School (Brampton, ON)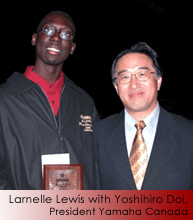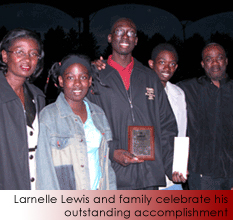 2002 AWARD RECIPIENT
Fraser Calhoun
Kamloops Secondary School (Kamloops, BC)