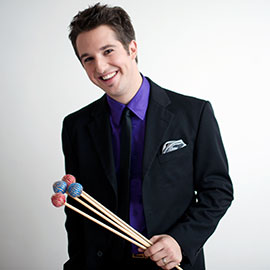 Brennan is a Percussion Instructor at Wilfrid Laurier University.  He holds a Master of Music degree in Performance from Oklahoma City University and a Bachelor of Music degree in Performance from the University of Western Ontario.  He directs the Wilfrid Laurier University Percussion Ensemble and is on faculty at the Inter-Provincial Music Camp and Southampton Summer Music. In the broader arts community of Waterloo Region, he also directs the Percussion Ensemble at Cameron Heights CI in Kitchener and the Drumline at Sir John A. MacDonald SS in Waterloo.
As an orchestral musician, Brennan perform regularly with the Kitchener-Waterloo Symphony Orchestra and Jeans 'n' Classics Rock Symphony. He has also performed with the Windsor Symphony Orchestra, Orchestra London (Canada) and the Oklahoma City Philharmonic.  As a theatre musician, Brennan has appeared both onstage and as a pit musician at the Stratford Shakespeare Festival, and played numerous other community theatre shows with Drayton Entertainment, Theatre Woodstock, Theatre Ancaster and Theatre Norfolk.  His chamber ensemble, Duo Percussion has toured the province of Ontario performing concerts for general audiences as well as numerous school shows.
Brennan is sponsored by Wilfrid Laurier University.