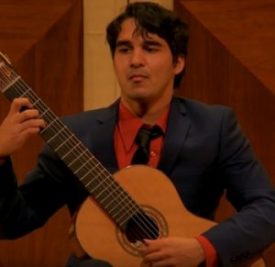 Daniel Ramjattan is a Guitar Instructor at Wilfred Laurier University.  He completes his doctoral dissertation on music performance anxiety (MPA) at the University of Toronto this year, where he received the New College doctoral fellowship in 2021-2022 for his research. On top of his active teaching schedule at Wilfrid Laurier University, where he runs the classical guitar area at the Faculty of Music, Daniel has given guest lectures on MPA at McGill University, University of Toronto, Wilfrid Laurier University, Memorial University, and at the Guild of Carillonneurs of North America. He also has upcoming presentations this year at Mount Royal University and the Guitar Society of Toronto's Guitar Weekend.
As a performer, Daniel has placed as a finalist in the Montreal and Hamilton International Guitar Competitions, has taken first prize in the OMFA Provincial guitar competition twice, and placed second in the 2016 National Music Competition in Edmonton, Alberta. He has given recitals in Canada, the US, Japan, Austria, and Italy, has premiered dozens of new works for guitar by composers from all over the world. He recently released his debut solo guitar album, Inspirations: New Music for Solo Guitar, in 2022, which was featured on CBC Radio's album of the week in March of this year on all streaming platforms thanks to a generous recording grant from the Ontario Arts Council.
Daniel is sponsored by Wilfrid Laurier University.