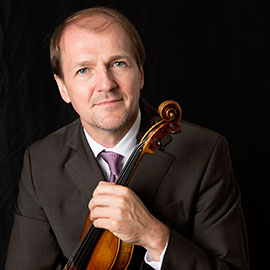 Jerzy is an Associate Professor, Violin, Strings and Chamber Music, and the String Coordinator at Wilfred Laurier University.  He a member of the Penderecki String Quartet, artist in residence.  Jerzy was born in Poland and began his musical training at the age of six on piano and transitioned to the violin at age ten. He received a Bachelor of Music degree from the Conservatory in Bytom and a Master's Degree in Arts from the Karol Szymanowski Academy of Music in Katowice.
Since joining the Penderecki Quartet in 1987, Heès been actively performing throughout Canada, Europe, Asia and North and South America. His recent solo performances include recitals and appearances with the K-W and Peterborough Symphony Orchestras.  His solo recording, "Music of Karol Szymanowski" was described by Strad magazine as "an outstanding release". He has also released over two dozen CDs (Marquis, Eclectra, CBC, CMC, EMI labels), including an acclaimed recording of the complete string quartets of Béla Bartók with the PSQ and Arnold Schoenberg's Pierrot Lunaire with the Blue Rider Ensemble.
Jerzy is sponsored by Wilfrid Laurier University.