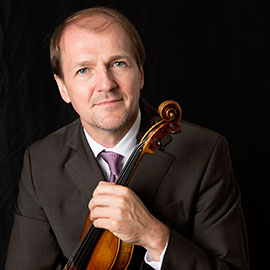 Jerzy is an Associate Professor, Violin, Strings and Chamber Music, and the String Coordinator at Wilfred Laurier University.  He a member of the Penderecki String Quartet, artist in residence.  Jerzy was born in Poland and began his musical training at the age of six on piano and transitioned to the violin at age ten. He received a Bachelor of Music degree from the Conservatory in Bytom and a Master's Degree in Arts from the Karol Szymanowski Academy of Music in Katowice.
Learn more about Jerzy at Jerzy Kaplanek
Jerzy is sponsored by Wilfrid Laurier University.