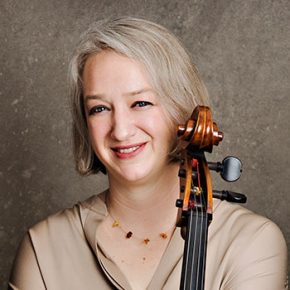 Katie is Artist-in-Residence (Penderecki String Quartet), Cello, Strings and Chamber Music Instructor at Wilfred Laurier University.  She received my Doctoral and Master's degrees from Stony Brook University and Bachelor's degree from the New England Conservatory. Katie has performed throughout the United States, Canada, England, Australia and Israel and is a former member of the Colorado String Quartet (2009-2013). As a former member of the Avalon Quartet, she received top prizes from the Concert Artist Guild (NY), the 1999 Melbourne International Chamber Music Competition and the 1998 Banff International String Quartet Competition.
Katie taught cello at the University of Connecticut from 2010-2013 while maintaining a private teaching studio in Stony Brook, NY for seven years. She has also taught cello at the Hartt Music School, Bard Conservatory's Preparatory music program, coached chamber music at New England Conservatory's Extension Division, Stony Brook University's pre-college program, and at the Colorado Quartet's intensive summer quartet institute, Soundfest.
Katie is sponsored by Wilfrid Laurier University.