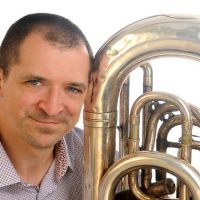 Multi-instrumentalist Keith Hartshorn-Walton relocated to Ottawa in 2015 and has established himself in the City's Jazz scene, specializing in Tuba, Sousaphone, Electric and Acoustic Bass. Originally from Winnipeg, Keith toured extensively with the Foothills Brass Quintet.  He has performed with Clark Terry, Louis Bellson, Quinsin Nachoff, as well as orchestras in Edmonton, Calgary, Oshawa and Kingston.  He is a Tuba (classical & jazz) Performance Instructor at Carleton University.
Keith is also part of two monthly jazz series with Tariq Amery and Garrett Warner at Ottawa's Art House Café and also has hosted the monthly Jazz in Barrhaven series at Anabia Cupcakery.   In addition, Keith is music director and organist at Wall Street United Church in Brockville. He received his Doctorate of Music from McGill University in 2010, and has studied with Dennis Miller (McGill) and Mark Tetreault (University of Toronto).
Keith is sponsored by Carleton University Music.