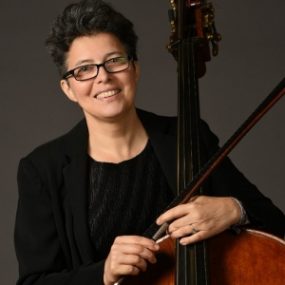 Born in Toronto, Marjolaine Fournier was raised in Chicoutimi after her family moved to the Saguenay in 1974. Long-standing principal double bass with the Orchestre Symphonique du Saguenay-Lac-Saint-Jean, she was a founding member of its Orchestre de Chambre in 1986. A bass student at the Conservatoire de musique de Chicoutimi and Trois-Rivières, she graduated with a Premier Prix in double bass and a Premier Prix in chamber music in 1989.
In 1991, after having been solo-double bass with the Jeunes Virtuoses of Montreal and the New York Chamber Soloists, she won a position with the National Arts Centre Orchestra. Marjolaine was appointed Assistant Principal Bass with NACO in 1997. In addition to playing in Ottawa, she enjoys teaching double bass at the Conservatoire de musique à Gatineau and is a member of the Kikyo Ensemble. The quartet, composed of friends from the NAC Orchestra, performs works written or arranged for its unusual formation: violin, viola, cello and bass, in a wide diversity of repertoire, combinations and styles.  Marjolaine is a very proud recipient of the National Arts Centre's "Good Ambassador Award".
Marjolaine is sponsored by the National Arts Centre Orchestra.