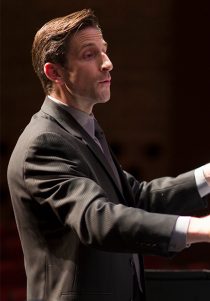 Matthew Marsit is an active conductor and clarinetist that has led ensembles and performed as a solo, chamber, and orchestral musician throughout the United States. He became Chair of Instrumental Studies at Boston Conservatory at Berklee in 2018, and also serves as artistic director of the Charles River Wind Ensemble. Matthew previously held conducting positions at Dartmouth College, Ithaca College, Cornell University, Drexel University, Symphony Nova, Chestnut Hill Orchestra, Bucks County Youth Ensembles, Performing Arts Institute of Wyoming Seminary, and Eastern U.S. Music Camp. He served on the clarinet faculty at Plymouth State University.  Matthew first completed his studies in music at Temple University in Philadelphia, where he graduated summa cum laude.  He completed a M.M. in conducting from Boston Conservatory in 2012.
As a clarinetist, Matthew has performed with many ensembles, including the Chamber Orchestra of Philadelphia, Fairmont Chamber Orchestra, and Cornell University's Ensemble X, and has made solo appearances with the Keene State College Concert Band, Dartmouth College Wind Ensemble, Handel Society of Dartmouth College, Cornell University Jazz Ensemble, Performing Arts Institute of Wyoming Seminary, Drexel University Symphony Orchestra, and Chestnut Hill Orchestra.
Matthew is sponsored by Conn-Selmer.