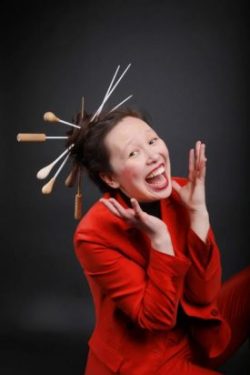 Naomi Woo is Music Director of the University of Manitoba Symphony Orchestra and the Assistant Conductor and Community Ambassador of the Winnipeg Symphony Orchestra.  She is the first-ever music director of Sistema Winnipeg, a programme that uses music as a tool for social change.  Naomi holds a PhD from the University of Cambridge, where she was a Gates Cambridge Scholar. She has also studied mathematics, philosophy, and music at Yale College, the Yale School of Music, and Université de Montréal. In 2021-2022, she will make debut appearances with the National Arts Centre Orchestra, Kitchener-Waterloo Symphony Orchestra, Regina Symphony Orchestra and Thunder Bay Symphony Orchestra, and will also conduct rehearsals of the Orchestre Métropolitain, having been chosen by Yannick Nezet-Seguin for the orchestra's inaugural conducting academy.
Her passion for new work and artistic creation has also led to trainings and residencies at the Darmstädter Ferienkurse, the International Ensemble Modern Academy at Klangspuren Schwaz, Nida Art Colony (Vilnius Academy of the Arts), the Cortona Sessions for New Music, and more. As a pianist, she has been a prizewinner at the Eckhardt-Grammatté Competition for Canadian and Contemporary Music and winner of the Hélène Roberge Prize for Canadian Music. She is an artist with Tangram, an ensemble devoted to celebrating the vitality of Chinese cultures, and creating new music by transnational Chinese creators.
Naomi is sponsored by the National Arts Centre Orchestra.