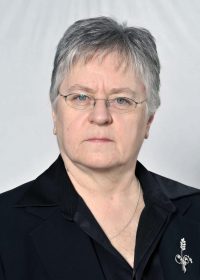 Wendy Grasdahl is a conductor, trumpet performer, educator and adjudicator.  Her professional work encompasses teaching at university and college levels across Canada, military band work and private instruction.
As an officer in the Canadian Naval Reserve, Wendy has conducted military bands in Alberta, B.C., Ontario and Nova Scotia. She is in demand as a clinician and guest conductor for school programs, as well as summer music programs, including 12 years at the International Music Camp at the Peace Garden on the Manitoba/U.S. border where she received the  Distinguished Service Award for conducting and promoting band in North America. Wendy received the  Faculty Association Excellence in Teaching Award from the University of P.E.I., the City of Edmonton Salute to Excellence Citation Award in Arts & Culture in 2014 and in 2019 the Alberta Band Association awarded her the "Vondis Miller Legacy" Award.
Having appeared as a trumpet soloist and in professional ensembles across Canada, Wendy is a founding member of the brass quintet "Five of a Kind", and has played Solo Cornet with the Mill Creek Colliery Brass Band.  She is the founder, Artistic Director and Principal Conductor of Festival City Winds Music Society which is now in its 25th season. Wendy currently teaches trumpet and is Director of Bands at Concordia University of Edmonton, and teaches Instrumental Conducting at The King's University, Edmonton. She has adjudicated festivals at local, regional, and national levels in 8 provinces to date.
Ms. Grasdahl holds a Bachelor of Music degree in Music History from the University of Alberta, a Master of Music degree in Trumpet Performance and Pedagogy from the University of Calgary, and a graduate level Fine Arts Diploma in Symphonic Band and Wind Ensemble Conducting and Literature from the University of Calgary.