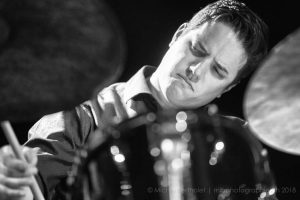 Ernesto Cervini is a drum instructor at the University of Toronto and a guest lecturer at Humber College and York University. In addition to his performing career, he founded Orange Grove Publicity in 2014 and quickly became one of the most sought-after jazz publicists in Canada. Guitarist Alex Goodman, saxophonist Allison Au and bandleader/composer Chelsea McBride's Socialist Night School are just some of the many highly respected artists represented by Orange Grove.
Ernesto graduated from the Royal Conservatory of Music (Toronto) with degrees in classical piano and clarinet performance before focusing his energies behind the drum kit. After completing his bachelor's degree at the University of Toronto, he began a four-year stint in New York in 2003, earning a master's degree from the Manhattan School of Music before returning to Toronto in 2007.  Ernesto received a JUNO Award for his 2019 Turboprop release Abundance, as well as JUNO nominations for his 2017 Turboprop release Rev, and The Where, by his co-led trio Myriad3. His 2019 release There From Here with the co-led trio TuneTown hit #1 on the Canadian !earshot charts and his newest release, Tetrahedron debuted at #1 on the Canadian Jazz iTunes charts.
Ernesto is sponsored by the University of Toronto.