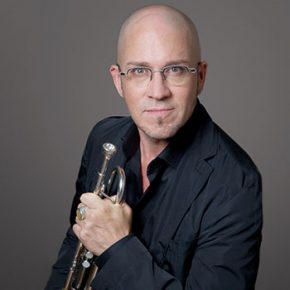 Guy Few is a Trumpet Instructor at Wilfred Laurier University.  He has presented clinics and masterclasses worldwide for festivals including Scotiafest, Takefu International Music Festival, Orford Arts Centre and the Banff Centre for the Arts, as well as postsecondary institutions such as the Montreal Conservatory, University of Toronto, Memorial University of Newfoundland, University of Saskatchewan, State University of New York at Fredonia and Sonoma State University.
It has been my great pleasure to be a guest at many summer festivals including The Festival of the Sound, The Ottawa International Chamber Music Festival, Tanglewood, Takefu International Music Festival, Oregon Bach Festival, Scotiafest and the Elora Festival.  Through the Canadian Broadcasting Corporation, the Canada Council, Factor and the Ontario Arts Council, he has debuted new works by Canadian composers including Glen Buhr, Peter Hatch, Alain Trudel, Melissa Hui, Mathieu Lussier, Linda Bouchard, Boyd McDonald, Jacques Hétu, John Estacio and many others.  Guy's awards include Best Classical Recording (Bacchanale/Just Plain Folks Music Awards/MSR), a Grammy (Penderecki CREDO/Hanssler Classics), and a Juno nomination (Canadian Concerto Project/MSR).
Guy has been a keynote speaker for brain injury associations in Canada and the USA. The presentations concern his two brain surgeries for Cavernous Hemangioma, the resulting memory loss and complications. Guy has been invited to speak on this topic for CBC TV and Radio (Peter Gzowski, Shelagh Rogers, This is my Music), Global TV affiliates, CTV, NPR, as well as symposia such as Bach and the Brain, Surgery Grand Rounds and OMEA. His speech, "Mokuso", features meditations for pain and stage fright.
Guy is sponsored by Wilfrid Laurier University.