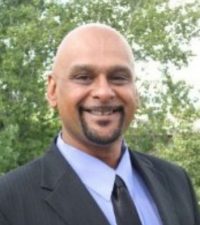 Moeen Hosain has been involved in the many facets of the music industry and music education for over 20 years. He is a sought after as a Wind Ensemble and Jazz Ensemble clinician in Quebec. The Bands he has worked with have gone on to become awarding winning ensembles at Musicfest Canada and Festival Des Harmonies de Sherbrooke.
Also in the Drum and Bugle Community, he has been a Music and Brass Coordinator since 1995 working with a great number of corps in the US and Canada (3rd Regiment-Ste-Eustache 1995-98 (Winner of the Spirit of Disney Award), Syracuse Brigadiers, Syracuse New York 1998-99 (Winner of the World Championship 1999) to   and presently he is working the Diplomates de Quebec.
He has also worked in for the Canadian Armed Forces as a Brass Instructor at CFB Borden, Ontario (1991-92).
Presently Moeen Hosain is on the Board of the NSMEAC (Nova Scotia Music Educators Association Conference)
Presently Moeen Hosain is the District Manager for  Canada for Conn-Selmer Musical Instruments.